---
| Danvers | | Herald |
| --- | --- | --- |
| | | |
| --- | --- | --- |
| Vol. 15, No. 22 | &nbsp | THURSDAY, FEBRUARY 27, 1997 |
Chung Moo Doe is like a college with many different subjects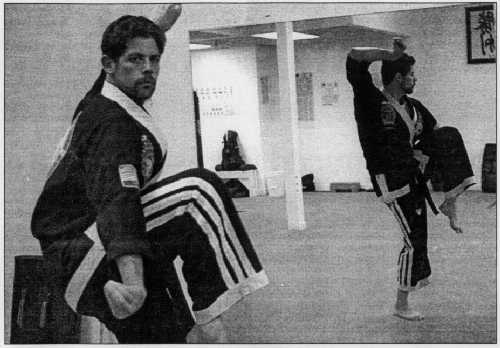 Intricate movement - Instructor Anthony Pasquale of the Chung Moo Doe School of Martial Arts on Maple Street, gracefully executes the intricate steps of the "Ocean Form," a movement that can go on for as long as 5 1/2 hours, as the mirror reflects his efforts.
Name:
Anthony Pasquale

&nbsp
DANVERS
at work
By Myrna Fearer
HERALD STAFF

Occupation:
Instructor
Address:
Chung Moo Doe, 36 Maple St.
Years of Experience:
10
Age:
32
Goal:
To reach his fullest potential mentally and physically.
When Anthony Pasquale picked up a flyer on Chung Moo Doe, little did he know he would someday be an instructor in the multidisciplinary school of martial arts.
"When I read the flyer, I realized it wasn't a kick and punch school, not a sport," Pasquale says. "One of the first things we ask people who call up is what it is they're looking to gain from martial arts.
"If you get someone who's 60, they may want range of motion. I have one woman 61 year old who couldn't touch her toes for 30 years, now she can touch her toes with her knees locked."
Chung Moo Doe, according to Instructor Anthony as he's known, is centuries old. It was brought to this country by Chong Su Nim "Iron" Kim. Chung means mind which will be developed by learning will power through physical training. Moo means body. Focus is on making it stronger to ensure a longer, happier and healthy life. And Doe is a way to develop harmony through practice.
"Chung Moo Doe is like a college with many different subjects," explains Pasquale. Eight martial arts, including Karate, Kung Fu, Ju Jitsu, Tae Kwon Do and Tai Chi are taught in the college. To the outsider, they may seem to overlap. "Because every person is so different, we have to have a wider range of tools to use to bring them to their goals.
"Every student will be able to tell you the difference between each art."
Unlike karate, where different colored belts signify degrees, Chung Moo Doe students start with a white belt on their white uniform. Each level passed gets a section dyed black by the instructor, whose black uniform sets him apart from the students. A series of stripes on the pants leg indicates various degrees.
Mutual Respect
At any time in Pasquale's studio on Maple Street, people of all ages, from 6 to 90 plus, can be found practicing movements in front of a mirror. As each person enters, students and instructor greet each other with the traditional bow, a sign of mutual respect.
"Children learn how to respect parents and teachers," says Pasquale of one of the side benefits of Chung Moo Doe adults appreciate. "These are the skills people seem to have forgotten, like holding the door for parents."
But perhaps it's more the discipline required to concentrate on a tack, discipline needed for academic success, that interests parents most.
"Parents want children to learn self control, to focus, to get along with others," Pasquale says. "They have these skills for life.
"Typically, when kids start here, they grow like weeds," he continues with a laugh. "I can't get enough uniforms for them. But it's their minds that are really growing."
Anthony Pasquale has come a long way from the young man who earned a diploma in mechanical drafting at Lynn Vocational Technical Institute. Hired by General Electric in 1982, right out of school, he was part of a 7,000 person lay off in 1986.
Realizing a job loss was inevitable, Pasquale lined up a position in maintenance at Mass General Hospital, specializing in welding.
"I did everything from hip replacement to duct work," he says. "It was very interesting."
Next Pasquale decided to return to school to become a travel agent. He worked for Garber Travel in various offices for five years and also part time for a shipping company in Stoneham.
"My travel agency job led me into it," he says "Instead of booking flights for people, I booked flights for hazardous materials.
"One of the philosophies of the martial arts is to learn as much as you can. That's what I did from the time I left high school."
Pasquale was also serving in the National Guard as an E6 staff sergeant. It was a family tradition.
"Ten years ago, I walked into a sub shop and picked up a flyer on Chung Moo Doe," says Pasquale of his introduction to the martial arts line. At the time, he was suffering from back pain. "When the instructor asked me what I wanted to achieve, I said to be free of pain. With my mind and body working together on the movements he showed me, within a month and a half, I got much better.
"During that time, I saw people in their 50's, 60's and older way ahead of me. I thought I'd better get going. It's not uncommon in China to see people in their 90's make my movements look sick."
As he continued his lessons, Pasquale says he not only improved in his coordination and balance, he also gained more confidence.
"I was coming to lessons three times a week," he says. "I realized how important it is to take care of your mind and body to really accomplish things I thought were important to life.
Wanted to instruct
"I was able to see the instructor take people in terrible condition and give them back their life. When I was four months into it, I wanted to instruct Chung Moo Doe.
"Everybody says they want to be an instructor, but not everyone can do it."
After passing his first degree test, Pasquale became an apprentice instructor. A successful second degree exam gave him the credentials to apply as a full-time teacher. He was still working part time in shipping and as a Guard member when he applied and was accepted as a potential school owner, his next move. All he needed was a location.
"My wife Rita Rose and I were driving through Danvers Square for a cup of coffee," says the Danvers resident. "She spotted this store. We looked at each other and knew this was it.
"We opened two years ago this June."
Since being in Danvers, Pasquale, a Rotarian, has tried to make himself an involved member of the community. He speaks in positive terms about town officials from the manager to the chief of police.
A great supporter of kids, Pasquale has done fund-raisers for the DARE program under Officer Don Maihos, put on demonstrations for Family Festival and instructed senior citizens in Danvers and local communities under the auspices of Harvard Community Health.
"We help seniors to regain their balance, flexibility and control," Pasquale says. "When I see a senior citizen move straight after an hour, it's incredible. Life has just begun for them."
But it isn't just seniors and kids who come for instruction. Pasquale works with doctors and other professionals facing deadlines and under stress.
"You have only one mind and body," he says. "If you take time to improve your mind and body for just a few hours a week, the benefits will be 100 fold. Everything we do here people can apply to their every day life."
Though Pasquale puts in long hours six days a week in his Maple Street school, he seems to be thriving on it.
"I really can't say I work for a living, this is so enjoyable," he says. Danvers has opened its arms to us and been very supportive. I'd really like to leave behind a seed of knowledge that has a great benefit on human life and build up the community around me."
---
The independent owners of the CHUNG MOO DOE® schools are proud to present personal testimonials from students in the hope that others may better understand the benefits of training in the CHUNG MOO DOE® martial arts.
All School of CHUNG MOO DOE® The CHONG SU NIM "IRON" KIM Style franchises are independently owned and operated.
---